The 3V Venosta offers a broad range of opportunities for surprising your loved ones on every occasion with an original, practical and elegant gift. Interesting solutions are provided for prizes from collecting points or promotions at retail sites such as supermarkets and mega-stores. With a vast range of products, 3V Venosta offers a series of useful and popular kitchen items, as well as practical and functional packages. Cutlery Gift Package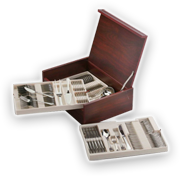 Another strong point of 3V Venosta is the possibility of personalizing its products with the customer's brand and logo, making gifts and promotions unique and special. 3V Venosta is also able to use customers' designs and specifications to create original and innovative products.
The 3V Venosta cutlery place settings, packaged in elegant chests or in refined velvet boxes, are a must for wedding lists or among the gifts for a young couple needing to set up their kitchen.
Blending the utility of cutlery with the elegance and the beauty of the 3V Venosta place settings in refined packaging, these also make perfect gifts for a friend or a colleague, or business gifts to customers and suppliers.
Because the best gift
is not only beautiful but useful
The
3V VENOSTA
gift ideas include:
elegant chests or refined velvet boxes,
cutlery produced using designs and specifications
provided by the customer,
product personalizations with the customer's brand or name