This section contains information regarding the services that 3V of Venosta makes available to its customers both in Italy and abroad.
To request details regarding our personalizations or to receive information regarding our products please contact us.
Do you want to strengthen your brand? Do you want to spread your name or logo? Do you need an original idea for promotions or for useful and innovative publicity campaigns?
Personalizing cutlery, coffee spoons and long-drink spoons with your name, your brand or your logo is original and unique. 3V Venosta can engrave the brand or the logo requested directly onto the cutlery (by mechanical punch or laser). An excellent idea for a personalized gadget to make an impact in a brilliant promotional operation or publicity campaign.
Creation by design
If you have a project to create, the 3V Venosta technicians are able to develop it beginning from your design, thus obtaining a unique and exclusive product able to represent you and help you stand out.
PERSONALIZED PRODUCTION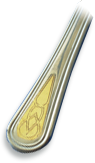 All the 3V Venosta products can be personalized with polish, gilding or satin finish to give you a unique and personal result.


Contact us and discover our personalization service.

Design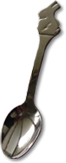 If you have an idea, 3V Venosta is the ideal partner to bring it to life.

From the technical study to the choice of materials, from the analysis of form to the creation, 3V Venosta supports you in every aspect to give life to your ideas.

Work with us to create a style that differentiates you and makes you unique.
SERIES PRODUCTION AND LARGE LOTS
The 3V Venosta production system allows creating large lots in short times. With our experience gained over the years, accompanied by our ongoing investments in innovations and sustainability in an increasingly competitive in a global perspective, we reach a very high productive capacity that allows us to address every type of request.
Investing in the company is one the pillars of the 3V Venosta philosophy.
GIFT IDEAS
Do you need a gift idea for a friend, supplier, or customer?
3V Venosta offers you perfect solutions for gift ideas that match elegance with practicality and originality with utility.

The 3V Venosta cutlery place settings, packaged in elegant wooden chests or in practical velvet boxes, are ideal wedding gifts or for a surprise on any occasion.

The 3V Venosta cutlery sets are also very popular with the general public. This makes them particularly interesting prizes for supermarket and mega-store collection points, because they match the beauty of the design object with the utility sought by customers.
Because the best gift is not only
beautiful but especially useful
INDUSTRIAL PACKAGING
With blister packaging, sleeves, and small boxes, 3V Venosta meets every retail requirement. The 3V Venosta industrial packages are practical and resistant, ideal for sale on shelves. Do you want a special package? 3V Venosta is ready to work with you to design the package that best suits your requirements.
TRANSPORT and DELIVERY Around the world